Stage fright and stress releasing skills
Do you want to conquer your stage fright? Public speaking is said to be the biggest fear reported by adults.
With us you can learn skills to reduce and manage your fear and stress.
After working more than 10 years as coaches, trainers and therapists on their own areas, sisters Katri-Liis Vainio and Hele Aluste developed practical experience training "The way to Myself"/"Stage fright and stress releasing skills" and used it effectively in Finland, Estonia, Belgium and Sweden.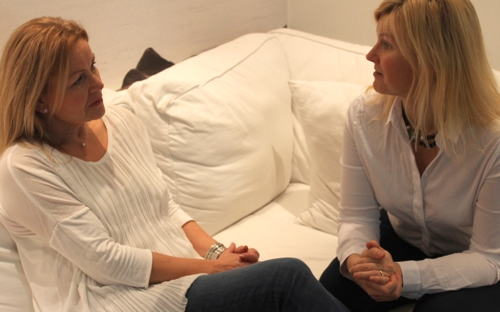 Katri-Liis will help you with the body posture, breathing and voice for achieving true self-confidence for charismatic presentations.
Background as a psychological counselor, riding therapist and working also with people with special needs, Hele will help you with your emotional and bodily tensions (TRE- and EFT-techniques) to reach the state of inner balance.
Holistic training will give you the understanding of how the tensions influence your body and thus the body language and communication.
You can integrate new self-empowering technique into your daily routine to gain deeper self-awareness.
Contact us, we can help you!
References
Finland, Hämeenlinna, 11/2012
The trainers were highly qualified and inspirational! They had comprehensive methods for supporting learning. During the day, amazing things happen, and my mind is joyous at end of the day! I am really exited to start practice these new things I have learned about myself.
Because the training was so awesome, I already want more of it. The development in this subject has no limits.
Because I work in very interactive mentoring situations in vocational training, where one have often to in a way to "present" yourself to the students, as well as use one´s voice as a tool a lot, the learning outcomes of this training are directly applicable to my everyday work in different interaction situations. Now I know how much I can affect my message getting through with being more effective and attractive in my expression, and in the best case also the enthusiasm of the students and their learning outcomes are growing here.